Mano Rena
"When You're Smiling
"
- Live at "La Guitarra"
Preis: EUR 15 zuzüglich EUR 2 Versandkosten pro Lieferung (incl. 19% MWSt.)
Mano Rena
Gitarristin, Sängerin und Jazzlegende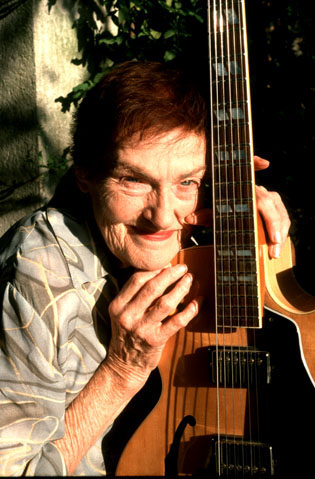 Man stelle sich eine warme Sommernacht an der Costa Brava vor. Mit einem dicken Vollmond, einer leichten Brise vom Meer und einem alten katalanischen Bauernhaus. Auf dem First glimmert eine Neongitarre; die Klänge einer Jazzband wehen durch die Nacht. "My Honeysuckle Rose". Man tritt ein und ist in einer anderen Zeit. Die Gäste sitzen auf kleinen Hockern, einige von ihnen tanzen. Und auf der Bühne jammt eine Jazzband, in ihrem Zentrum eine charmante alte Dame an der Gitarre: Mano Rena.

Sie ist wohl die älteste aktive Jazzgitarristin Europas. Sie wurde 1919 geboren und spielt einen höchsteigenen Stil, eine Mischung aus Blues - Big Bill Broonzy - und Django Reinhardt. Das ist kein Wunder, denn beide hat sie gut gekannt und letzterer hat ihr sogar ein Stück gewidmet: "Mano". Mano Rena stammt aus Südfrankreich. Sie studierte Kunst und Mathematik , bis sie 1939 den Jazzpianisten und –sänger Jimmy Rena kennenlernte. Als sie ihren Eltern mitteilte, dass auch sie künftig mit der Musik ihren Lebensunterhalt verdienen wollte, fanden diese die Idee "formidable"; denn das Musikerdasein war in Frankreich damals ein anerkannter und recht einträglicher Beruf. Den Krieg erlebten Mano und ihr Mann in der "région de Maquis", jener Gegend, die von den Widerstandsgruppen gegen die deutschen Besatzer beherrscht wurde.

Zusammen mit Jimmy schrieb Mano Rena ein kleines Kapitel Jazzgeschichte. Nach dem Kriege organisierten sie mit einem Freund das legendäre erste Jazzfestival in Nizza in Südfrankreich, spielten mit den berühmtesten Jazzern und waren mit ihnen befreundet. Louis Armstrong, Jack Dupree, Big Bill Broonzy, Mezz Mezzrow, T-Bone Walker, Lionel Hampton. Im Sommer spielten sie in den Grand Hotels an der Cote d'Azur, später der Costa Brava - im Winter in den Pyrenäen. An der Costa Brava betrieben sie schließlich einen eigenen Club, "la Guitarra". Dort tritt Mano Rena heute noch auf, jedes Jahr im Juli und August zusammen mit jungen Musikern aus Barcelona. Sie spielt Stücke wie "When You're Smiling", "All Of Me", "St. James Infirmary Blues" und singt dazu mit ergreifender Stimme

"When You're Smiling": die Liveaufnahme ist entstanden im August 2001. Es ist die erste Platte von Mano Rena.

Die Titel:

1. Intro
2. When You're Smiling
3. The C-Jam Blues
4. Baby, Won't You Please Come Home
5. All Of Me
6. Out Of Nowhere
7. Honeysucle Rose
8. St. James Infirmary
9. It Don't Mean A Thing
10. The Sheik Of Araby
11. When The Saints Go Marching In

Die Musiker:
Mano Rena Larroque: voc, gtr
Pere Ferré Balasch: piano
Santiago Cholby Yusté: dr
Manolo Germán Péréz: bs
Ferran Cailá Martinez: Trp & voc. track 11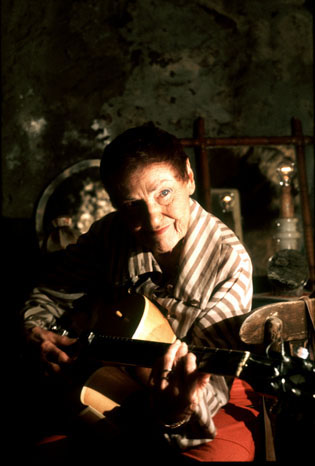 Preis: EUR 15 zuzüglich EUR 2 Versandkosten pro Lieferung (incl. 19 % MWSt.)
Welcome to «La Guitarra»

Imagine a warm summer night on the Costa Brava with soft breeze and a full moon – at the side of the road an old Catalan farmhouse with a guitar in neon lights on top. When you step in, you feel like you're in an old movie. It's a cave with people sitting on tiny stools, sipping their drinks. Some are dancing – some are not. On the stage there's a jazz band grooving away with a charming old lady in their midst playing the guitar and singing songs like «When You're smiling» and «St. James Infirmary». You have just entered the world of «La Guitarra», the amazing jazzclub in Palafrugell. Each night in July and August, this lady is the star.

Her name is Mano Rena, and she was born in the town of Montauban in the south of France, in the year 1919, right after World War I. While she was studying mathematics as World War II began, she met singer and pianoplayer Jimmy Rena. They fell in love –not only with each other but with jazz as well. Mano started playing the guitar. After the war, they wrote a little chapter in the book of French jazz history. They were close friends of Hughes Panassie, the godfather of jazz, as he is called still today. With him they organized the famous jazz festival in Nice in 1948. Mano and Jimmy Rena became good friends with the great jazz and blues musicians that came over to perform in their country – Louis Armstrong, Memphis Slim, Lionel Hampton, Coleman Hawkins- and even played with most of them.

Mano Rena developed her own style of playing. Actually her teachers were Big Bill Broonzy and Django Reinhardt who wrote a wonderful piece of music for her entitled «Mano». Jimmy and Mano Rena did not strive for international fame; they went along playing in the grand hotels along the Côte d'Azur. Live Music was a rewarding job in the days before discotheques. And in 1962 they opened their own place in Palafrugell on the Costa Brava, calling it «La Guitarra». Jimmy died in 1995; but Mano, encouraged by the musicians she played with and her other friends, decided to go on. And with her bunch of young musicians she still plays in the place and gives it the flair of an early fifties jazzclub somewhere in Paris or New York City. But you will not find places like «La Guitarra» in those cities anymore.


Preis: EUR 15 zuzüglich EUR 2 Versandkosten pro Lieferung (incl. 19% MWSt.)